Email:
Support@FUTVip.com
------------------------------------
Phone:
086-18523832685
------------------------------------
SKYPE:
tuist2007
------------------------------------




Secure Trade Guarantee
You never need to worry about the security of your personal information on our site. myrsgold won't share your information to any third party without your permission.
Lowest Price Guarantee
myrsgold strives to provide a huge amount of real cheap Runescape 2007 gold (Old School Runescape Gold) for players, and we firmly believe that all the 2007 RS gold for sale at our site is the cheapest.
10 Minutes Delivery Guarantee
We guarantee that the whole delivery process will be done in 10 minutes after your order is confirmed. That means you don't need to wait for a long time to buy 2007 RS gold (Old School Rs Gold) from us
100% Satisfaction Guarantee
We offer 24 hours service everyday. You can buy RS gold 2007 (Old School Runescape Gold) from us at any time! Please feel free to contact us by online chat, email or skype if you have any questions.


News
Battlestate Games gives away 1 million in-game roubles to all Escape from Tarkov players
Hardcore tactical survival game Escape from Tarkov has been a hit, both with streamers and players, since December 2019. But the game's back-end infrastructure continues to fail. Things got so bad last weekend that the team at Battlestate Games is handing everyone 1 million Rubles — the in-game currency, not real-world cash — as compensation. Players have a few days to log in and claim it.
Some Tarkov players have accepted the gift warmly, while others question whether it's enough. Players who disconnect from Escape From Tarkov mid-raid and aren't able to re-connect risk losing all of their loot, including gear they brought into the session with them--even if the disconnection was due to uncontrollable factors like server instability. The appeal of Tarkov comes from its high-risk, high-reward gameplay, but a bad connection is never a welcome part of any raid. Players are offered the chance to re-connect if they've lagged out of a game, but there's no guarantee it will work or that their gear will be recovered.
"We are sorry that you had to deal with unstable server performance this weekend," the developers said in a series of tweet. "We want to assure you that we are working tirelessly to improve the server situation, although it is not always up to us to fix it. We apologize for the inconvenience and thank you for your patience and understanding." In addition, if you are in need of
Cheap EFT Euros
, you can visit our website z2u.com.
Naturally, players were frustrated by this experience. Some players were even affected during the middle of a raid, causing them to lose invaluable gear with no way to get it back. This server issue also comes on the heels of an in-game economy crisis due to the influx of new players playing the game. Many players called for server resets for Tarkov, however, most probably did not foresee this issue.
Escape from Tarkov has become one of Twitch's most popular games of 2020, but these hiccups could really hurt a lot of the success the game has had if they continue. Still, if you can get online, be sure to claim your million rubles if you get a chance, as all that money could come in handy once the servers regain their stability.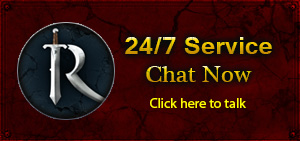 The live chat was very helpful,and i got my coins easily,thank you
Amazing services, recieved my coins within 15 minutes. Out of this world fantastic. Will use again!
so fast i cant believe it , will come again for sure .
I am very satisfied with thisweb services indeed,i always get what i want soon ,thanks
Thank you, I am very happy to get what i want in such a short period of time