Email:
Support@FUTVip.com
------------------------------------
Phone:
086-18523832685
------------------------------------
SKYPE:
tuist2007
------------------------------------




Secure Trade Guarantee
You never need to worry about the security of your personal information on our site. myrsgold won't share your information to any third party without your permission.
Lowest Price Guarantee
myrsgold strives to provide a huge amount of real cheap Runescape 2007 gold (Old School Runescape Gold) for players, and we firmly believe that all the 2007 RS gold for sale at our site is the cheapest.
10 Minutes Delivery Guarantee
We guarantee that the whole delivery process will be done in 10 minutes after your order is confirmed. That means you don't need to wait for a long time to buy 2007 RS gold (Old School Rs Gold) from us
100% Satisfaction Guarantee
We offer 24 hours service everyday. You can buy RS gold 2007 (Old School Runescape Gold) from us at any time! Please feel free to contact us by online chat, email or skype if you have any questions.


News
Old School Runescape closes Bounty Hunter worlds
Old School Runescape developer Jagex has decided to close the MMORPG title's Bounty Hunter worlds "until further notice" due to concerns about gold farmers abusing them. After an early statement letting players know that the worlds would shut down, the developers have gone into further detail on their plans to revamp PvP.
"It's time to make a change," Jagex says in the statement. "Not just to Bounty Hunter, but to our approach to PvP as a whole. PvP is a cornerstone of Old School. Currently it deserves better, so we're taking a step back and considering its place in the overall game. Our goal is to determine a long-term vision for PvP. Rather than move from one release to the next, we want a clear direction for the next few years that will inform how we design content moving forward."
Bounty Hunter is a mini-game that can be found in the Wilderness levels. By participating in it, you'll see an interface that will show you which of your fellow participants have to kill your target. When you do so, you get bonus points if you're holding a mysterious emblem. This item, which is sold by the Emblem Trader, gains EXP every time you kill a player that also has a mysterious emblem. Furthermore,You can buy
Cheap OSRS Gold
at z2u.com by using the code "Z2U" for a 3% discount.
However, some people managed to find a way to make lots of OSRS gold out of it. Jagex claims that these players "abuse its mechanics to generate GP in excess of the amounts available via legitimate methods." For some reason, Jagex thought that it's a potentially game-breaking problem, saying that this particular form of content "undermines other game content and the overall integrity of the game", and their solution is to do away with it. Thus, worlds 318 and 319 have already been closed off.
It will be a fairly lengthy wait before more information about bounty hunting is revealed. While unlikely, it's possible that the minigame never returns to Old School RuneScape. This would only happen if Jagex's "technical and rules enforcement-based solutions" end up unsuccessful. Whatever the case is, the developers feel that it's "time to make a change".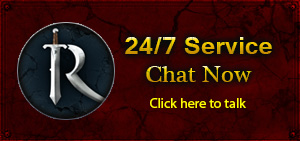 Thank you, I got the coin. I will deal with you again.
It's very cool!! The coins is so cheap that beyond my imagination.
The best coins site ever!!! nice support, LOWEST price. I was purchase 2500K - everything is ok
it is so good.She helped me so much and made sure my coins was safe and i was going to get my coins she helped a lot thanks